Save the Date! 50th Annual                
Shamrock Club of Wisconsin                     
St. Patrick's Day Parade                  
March 12, 2016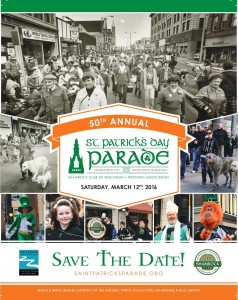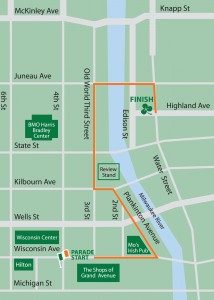 Thank you to all that joined us in the celebration in 2015! Fantastic weather, huge crowds and brilliant performances were the order of the day for the 49th Annual Saint Patrick's Day Parade on March 14th. The sunny 57-degree weather put an extra spring into the steps of the dancers from all seven Milwaukee-area schools, as well as the three bagpipe bands and two military marching bands. The brisk breeze put a snap into the flags and banners.  Even the Irish Wolfhounds and Irish Setters as well as the dogs from the Friends of MADACC and the Brew City Bully Club seemed to be having great time.
Thanks to all of our parade sponsors, especially to presenting sponsor Miller/Coors and Killian's Irish Red, and to  a dedicated group of parade volunteers, who helped the day go off without a hitch.
Check out some great parade day photos here!
Winners of the Parade Awards, as selected by a panel of volunteer judges, were:
Best Marching Unit- DALEY DEBUTANTES BATON & DRUM CORPS
Best Musical Unit
NAVY BAND – GREAT LAKES
Best Float
WESTOWN ASSOCIATION

Thomas J Smith Award for Best Irish Unit
KINSELLA SCHOOL OF IRISH DANCE
Best Parade Unit
GLENCASTLE IRISH DANCERS
Parade Directors' Award
TRIPOLI SCOTTISH HIGHLANDERS PIPES & DRUMS
Planning will start shortly for the 2016 parade, which is tentatively set for Saturday March 12th, 2016. Next year's celebration will be the 50th Saint Patrick's Day Parade sponsored by The Shamrock Club of Wisconsin, which was first held on March 11, 1967. It promises to be a very special event, with special guests and surprises – - make your plans to be there now!
The 49th Annual Parade was presented by Westown Association, The Shamrock Club of Wisconsin and Killian's Irish Stout.Click here to download the official parade brochure!
The Friends of St. Patrick- Milwaukee Chapter and the Ancient Order of Hibernians, in partnership with the Hunger Task Force, will be collecting non-perishable food items at this year's St. Patrick's Day Parade in downtown Milwaukee.  Parade spectators are encouraged to bring food items to the parade; volunteers will be collecting the food items in grocery carts throughout the parade route.